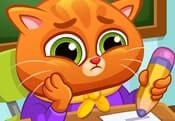 Bubbu School FREE GAME · PLAY ONLINE
Bubbu School is a challenge that benefits little ones. With fun and colorful graphics, you will join the cat and his friends! They learn new skills and explore a place to learn. It has a variety of activities including math, spelling and logic puzzles.
You can also take part in music challenges and drawing lessons. This will allow everyone to show their creative abilities and develop new talents. Earn stars and rewards for your achievements, which will bring additional motivation!