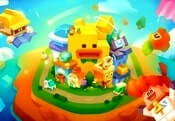 BRIXITY FREE GAME · PLAY ONLINE
This world is on the brink of extinction, but you can save it! Players will take control and bring order to BRIXITY! Build a unique city where wonderful people will live. These cute creatures are ready to join a new society, so start the process soon!
Engage in the creation of high-rise buildings, shopping malls, parks and more! Make sure that the heroes feel comfortable when walking the streets! Prove that you are innovative and achieve amazing results! Add small details and decorate structures!