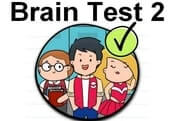 Brain Test 2 FREE GAME · PLAY ONLINE
Are you ready to find out what your IQ is? This game contains the coolest puzzles that only exist. Here players will be able to check how smart and erudite they are. Each level has its own plot that will surprise everyone.
Defeat the king in an extraordinary way or solve riddles that no one else can! Also there are tasks with a mathematical bias. Find out how fast you can react or count in your mind! Here you can not only have fun, but also improve your brain! Take part in the quiz and get points!