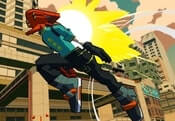 Bomb Rush Cyberfunk FREE GAME · PLAY ONLINE
Here you will be in the role of a very brave teenager. First you will find yourself in the police station! From there you will be pulled out by the leader of one of the coolest gangs in the city. He will take you to his team in this game!
He will teach you various skills and give you a cool roller skate vehicle. You will complete assignments and upgrade your abilities. And you will also participate in competitions to win over others. An exciting and extreme adventure awaits you. Good luck!