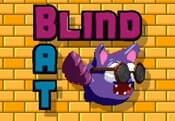 Blind Bat FREE GAME · PLAY ONLINE
Blind Bat is a great challenge where players have to control a flying animal. It travels through dark caves and hunts for prey. The character is blind, relying solely on echolocation to navigate the maze of tunnels.
You must use your wits and reflexes to guide the creature safely through the area. Avoid obstacles and collect bonuses along the way! This task seems simple, but you are just getting started! Be careful not to accidentally crash into a wall or other obstacle! Can you handle it?