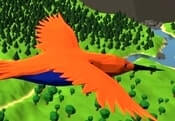 Bird Simulator FREE GAME · PLAY ONLINE
People are completely fed up and they need to be destroyed! In Bird Simulator, players will take on the role of a winged creature. At the beginning of the process, you will control a crow and go on a journey through a small town.
Use different weapons to kill everyone you don't like. Fans can use their own feces, peck, beat their wings and more. Try to come up with an ingenious attack method, such as using a chair! Move not only objects, but also people so that they stand in the right places. Open all locations!