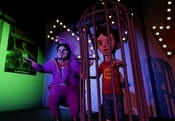 Ben and Ed FREE GAME · PLAY ONLINE
This is an exciting challenge that tells the story of a boy and his zombie friend. You must guide Ben and Ed through a series of dangerous and challenging obstacle courses. They are filled with deadly traps and obstacles that stand in their way.
There are many different levels here, each with its own set of puzzles to solve! You must use the unique abilities of the living dead to overcome problems. He is able to separate limbs and throw them to go through the location. Or use them as weapons against enemies!