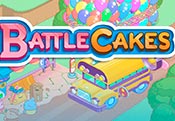 BattleCakes FREE GAME · PLAY ONLINE
Welcome to this delicious world! In BattleCakes, players will visit wonderful territories where they will meet many heroes. First, create your own and customize it with a unique look! Now that everything is ready, fans can have a great time and enjoy the process!
There are too many secrets and dangerous things in this city. Will you be able to find out everything about it? The future depends only on your decisions, so take your time! Choose who to become friends with and who to fight with!