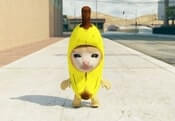 Banana Cat FREE GAME · PLAY ONLINE
Do you want to get a pet but are not sure that you can take care of it properly? Then try yours at Banana Cat! Your pet expresses emotions, so you will receive feedback on every action you take. Try not to make your pet cry!
You will be able to overcome all the quests that you will encounter along the way with a little effort. Have fun together and do not forget about care and attention! Nothing will work without your help. Take maximum time, and then everything will be fine. Relieve your daily stress with this app.