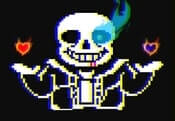 Bad Time Simulator Unblocked FREE GAME · PLAY ONLINE
In the game Bad Time Simulator Unblocked your opponent will be a skeleton who attacked you. To defeat him, you need to move the cursor very cleverly under the guise of a heart. Inside are health points!
It is necessary to avoid the obstacles that the enemy puts in front of us. Take out the pointer in time, otherwise your health will be taken away. After you pass all stages and the music ends, you will defeat the boss! He will disappear from this world and never bother you again! Achieve it at all costs!