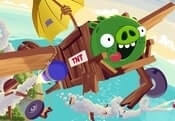 Bad Piggies FREE GAME · PLAY ONLINE
The Bad Piggies are on the hunt for eggs again. You have to help him get to the right place! Their prey is relatively far away and you need to figure out a way to overcome the path. A great option is to build a flying or rolling transport.
Green animals have all the necessary materials and tools to do this. Be smart to create a masterpiece that can bypass all obstacles! There are about 150 levels here that are completely unique and ready to amaze! Get the perfect score to unlock the puzzle! Good luck!