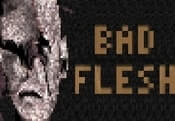 Bad Flesh FREE GAME · PLAY ONLINE
In Bad Flesh you can't eat meat that's not okay! This is the only serious rule you need to follow. If you don't listen, the process will end. This challenge won't take long, it will be about five minutes. Players will do an X-ray of the hero's entire body on the screen.
You need to understand whether all organs are in good condition. It's weird, but it's addictive! The interest increases with every second, and besides this, the tension too. Will you be able to cope with the main mission and reach the end?