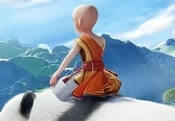 Avatars Saga FREE GAME · PLAY ONLINE
In this game, players go to a world full of adventure. Here you can explore it and find a huge number of cool creatures and locations. A huge map will allow you to move to any place and enjoy! Over time, you will be able to open even more of them, so do not miss the moment.
There is a good plot here that you can watch during the process. In addition, you have to fight with opponents and use powerful attacks. Upgrade your characters' skills to fight the main bosses. Show all your skills to win!