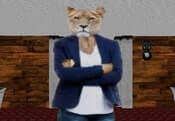 Angelica Chaotic Hardcore School FREE GAME · PLAY ONLINE
You wake up in a strange building as a young girl named Emily. This school has several floors. But the strange teacher on the top floor controls all the brains of the teachers. It drives them crazy when you answer their questions incorrectly.
Escape from the main monster, beware of dog bites and just survive! Job to the highest point, destroying enemies to remove the curse! There will be a lot of unexpected moments at Angelica Chaotic Hardcore School! Reach the end to find out the whole truth!