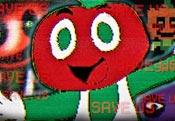 Andy's Apple Farm FREE GAME · PLAY ONLINE
In this game you will take the role of a strange hero who has lost a key. To find it, you must meet other characters. Meet Felix, Melody, Margret and Klaus! Each of them has a different task that will earn you bonus stickers by completing it.
Help a guy collect all the items, and maybe they will tell him where the key is. However this process is not as simple as it seems, because here there are a lot of secrets to be solved. Players will have to go through this several times to understand the whole story. Be careful because there may be harsh sounds and scary pictures!