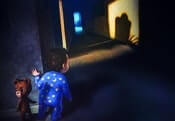 Among the Sleep FREE GAME · PLAY ONLINE
In this game, players will control a girl who is only two years old. One night she wakes up from strange sounds and runs to her parents' room. They are not there, but she finds her favorite bear toy.
It tells the baby that something was wrong in the house and it's time to find out about it! You have to explore each of the rooms to get all the necessary information and stay alive. Fear will overcome you, but try not to lose your sanity! This is a real test of the strength of your nerves, so success!