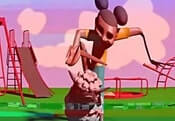 Amanda the Adventurer 2023 FREE GAME · PLAY ONLINE
The adventures of a little girl who is very curious are not over! This is a new continuation of the game where you have to witness something terrible. It all started with the fact that the child climbed into the attic and found an old cassette.
It depicted a show that existed many years ago. Due to strange circumstances, the protagonist knew all the characters by heart. All of a sudden, they all came to life and took over the house! Now players will have to react quickly in order not to fall into the trap.