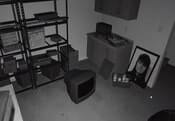 Alternate Watch FREE GAME · PLAY ONLINE
This game is not for the faint of heart, so if you think you're brave then welcome! Here, players will be able to watch all the rooms in the mansion and look for dirty tricks. There is a camera on almost every corner with which you can witness creepy situations.
From time to time, various anomalies will occur here. As soon as you notice one of them, then immediately fix it in the report! Specify all the details to make it easier to work in the future. The main task is to prevent a huge number of mystical phenomena!