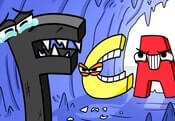 Alphabet Lore FREE GAME · PLAY ONLINE
Have you ever heard that letters can quarrel? In this game, players will go to the magical world to find out all its secrets! Meet characters who are completely unique. Each of them has its own history, features and character.
Become a witness of bright events that will be remembered for a long time. One of the heroes is very angry and wants all the other guys to stop being friends. Find out about his terrible plans and stop him from realizing them! Watch them in this exciting challenge and enjoy!