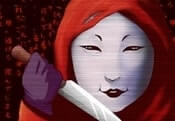 Aka Manto FREE GAME · PLAY ONLINE
In some cities everyone is talking about an evil spirit in a red cloak. According to legend, he kills those who use the toilet in public places. Then it suggests using paper of two colors and it doesn't matter which one you choose.
In any case, it will kill you, the only difference is in what way. In this game, players will visit a mansion where there are a huge number of rooms. The long corridors try to confuse you, but don't give up! Explore every corner, but do it quietly, otherwise the creature will attack!