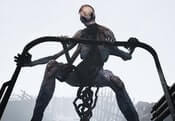 Ad Infinitum FREE GAME · PLAY ONLINE
The main character is a former soldier who was in the war. It always leaves a terrible mark in the depths of the soul! In Ad Infinitum, a guy opens his eyes in his own bedroom and realizes that it has changed. The whole house seemed abandoned and old.
From time to time, soldiers appear before your eyes and salute. The memories become more and more creepy every time. Or is this reality? Players will have to explore the territory and try to get out of nightmares! They get confused and it seems that this is a trap.