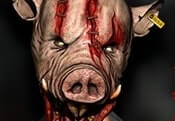 911: Prey FREE GAME · PLAY ONLINE
In 911: Prey, the protagonist will be in a terrible situation. The guy was kidnapped by a bloodthirsty killer! He was locked in a cage with which he miraculously managed to get out. But he won't be able to do it without your help! You must be smart, careful and resourceful.
After all, a maniac walks around the house and at any moment can attack the victim. You need to collect all kinds of objects that will help the guy escape as soon as possible. If the maniac interferes with you, the hero will immediately die.