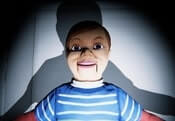 9 Childs Street FREE GAME · PLAY ONLINE
This is a horror game that will scare you to death! Players will face paranormal situations to find out the whole truth. The main character is a little boy who lives opposite the mysterious house. It used to belong to an elderly man, but he recently went missing.
The guy was very interested in this and a strange event happened recently. At night, a light appeared in one of the windows and the hero decided without a doubt to visit the mansion. It looks like someone is watching you, doesn't it?