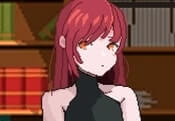 7 Days to End with You FREE GAME · PLAY ONLINE
Have you ever thought that the whole world depends on you? In this game you will control a character who will go into unknown territory. There, players will meet other heroes who speak a language that does not exist.
Interpret the words as you understand them, but be careful! The entire next story will depend on how you explain it to your interlocutor. For this reason, all dialogues and so on affect the development of all situations. Trust your intuition and let it create new storylines!