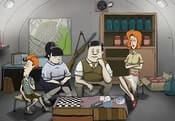 60 Seconds! Reatomized FREE GAME · PLAY ONLINE
The end of the world is approaching and you need to start saving! According to the news they said that you have only one minute! During this time, players need to quickly explore the house and take all the necessary things.
Once you enter the bunker, there will be no turning back. Now you have to find ways that will help you stay alive. The real fun in the game will begin when you realize you forgot your toilet paper! Try different decisions next time! Mistakes are not bad, the main thing is to notice them.