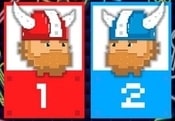 12 MiniBattles FREE GAME · PLAY ONLINE
There are many different little challenges in 12 MiniBattles. If you want to have a great time with your comrades, then welcome! You still haven't decided what to choose? Here are collected various genres that everyone will definitely like!
For example, players can enter the football field and fight with the opposing team. Or you can arrange a showdown where you challenge a gangster to a duel! There are many sports-related activities here. Invite comrades to fly, move, run and attack together!