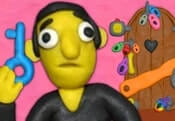 12 Locks FREE GAME · PLAY ONLINE
The main character, along with his daughter, go to the museum. They carefully examined everything and marveled at the beauty of all the sculptures and paintings. Having lost track of time, they were locked in this building.
In order to get out of here you have to find the keys and open 12 Locks. After that, a real adventure will begin with a huge number of tasks for logic. Solve puzzles that help develop your memory, vision and mindfulness! This is an exciting process that will not make you bored!